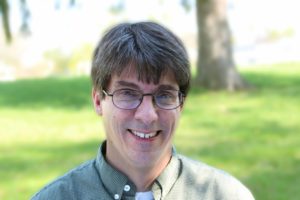 Marc Davis
Marc is an Abington native and became part of New Life as a child, together with his family, in 1978. He made his first profession of faith here in 1980.  He is a graduate of Abington High School (1986), the University of Virginia (1990), and Westminster Theological Seminary (1997).
Marc discerned a call to ministry while a college student; he worked on the staff of InterVarsity Christian Fellowship for three years prior to attending seminary. Then after ten years of working in the community at Arcadia University and active membership in the local church, he joined the pastoral staff at New Life in 2007.
Marc and his wife Susan live in Roslyn with their three very interesting children, Nathaniel, Maggie, and Owen, along with the family dog and assorted smaller animals.