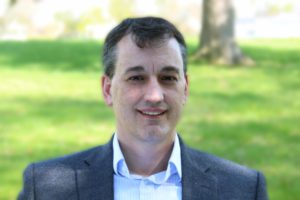 Mark Moser
Mark met his wife Lise in elementary school in the small town of Kidron, Ohio. They started dating just before Mark graduated from high school in 1992 and left to study Electrical Engineering at Ohio University in Athens, Ohio. Lise followed Mark to OU two years later, and later they married and moved to Manassas, Virginia, where Mark worked as an engineer. Soon he transitioned into teaching computer programming in the IT sector, which he did for over 16 years, while also pursuing theological studies. Mark holds the Master of Divinity degree from Westminster Theological Seminary ('07), and is a dissertation away from completing his PhD in Historical and Theological Studies at Westminster.
Mark spent twenty years volunteering in various churches and ministries, as well as over ten years in part-time studies at seminary, all in preparation for full-time ministry someday. That day finally came in January of 2015 when he came on staff here at New Life, where he and his family had attended for over twelve years.  After a year growing in the position as an Assistant Pastor, Mark was installed as  Pastor in 2016.
Mark and Lise live in Glenside with their four children, Susanna, Boaz, Mary, and Ezra.